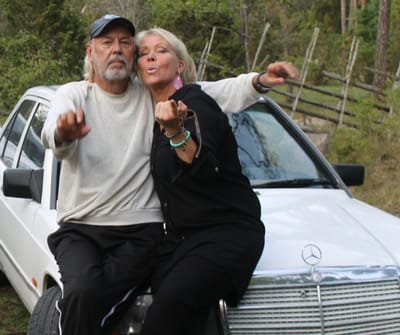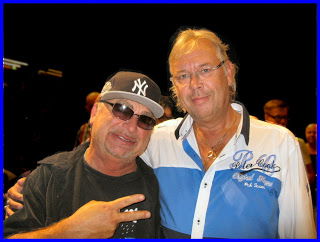 I have been in the business for 49 years now
. At the start as a musician, later behind the mixing console and mikes and midi. I founded my first band at age 12 called Black Mustang. The past 15 years I have focused on mastering. A delicate and demanding task. Under the years I have produced about 500 commersial albums, had approx 10 live bands and built several music and radio studios, mostly in Scandinavia. But under the past years I have added USA and Spain to the territorium.
Background is self taught musician skills on all kinds of odd instruments, where the five string electric bass is king. Keyboards and midi programming is something I have done since early 80s, when the midi sequenser was born. Okay, sometimes my schedule allows songwriting as well. I write mostly on demand for needed tracks on albums. Since 13 of March 2020 in limited Corona times to this date, I have actually mastered music for over 80 different clients in Sweden. Thanks to internet, we can still find ways to work together and spread the good medicine-
MUSIC!
-Clas.................................................................................................
Pictured: Inga-Lill "Lili" Päivärinta (Lili&Susie) and Me Gotland, Sweden.David Paich (TOTO) and Me Jakobstad, Finland.
........................................................................................................
Mixing, Recording, Mastering and teamwork referencesEUROPE:
Loa Falkman, Alf Robertson, Mats Ronander, Peppe Ekberg, Kento Edh, Lili & Susie Päivärinta, Johan Becker, Janne Hyöty, Charles Plogman, Stig Snickars, Lars Rosin, Helene Nyberg, Sonja Biskop, Peter Nylund, Susanne Sonntag, Marina Sigfrids, Susanne Holm, JJ Nyberg, Per-Erik Krooks, Charles Hemdahl, Thomas Haglund, Marika Krooks, Alf Tuomela, Nils Tuomela, Camilla Nylund, Ann-Katrine Burman, Hans Martin, Maj-Britt Martin, Tomas Fant, Graham Silver, Robert Aase, Per-Erik Krooks, Wilhelm Skata, Björn Schauman, B-G Laxell, Patrick Linman, Hippi Hovi, Dan & Ruth Bertlin, Martin Kantola, Kjell Lolax, Patrick Wingren, Lars Möllesjö, Krister Lillas, Jörn Blomqvist, Johan Kärkinen, David Thölix, Geir Rönning, Stefan Jansson, Patrik Lax, Kristoffer Streng, Monica Aspelund, Ami Aspelund, Linda Backgren-Holm, Pelle Henricksson, Bosse Larsson, Sune Mangs, Frank Ådahl, Arja Sajonmaa, Lucas Snellman, Håkan Jäntti, Christina Lindberg, Olli Ahvenlahti, Edu Kettunen, Jatta Sallinen, Gerd Pettersson Ebegård, Ulf Ekman, Harri Holtti, Fred Berg, Kjell Samuelson, Karl-Gunnar & Rolf Edberg, Robert Granholm, Eegon Vivo, Esa Siltaloppi, Thomas Bäck, Roland Wiik, Viktor Klimenko, Theresa Witting Eklöv, Ussi Hedenskog, Mårten Streng, Kjell Noren, Ulla-Britt & Rune Carlsson, Lars Nylèn, Christer Ekman, Ann & Pia Slangar, Jan Jacobson, Freddie Sundell, Frej Högdahl. 500+ Artists and musicians.........
USA:
Ed West, Lee Ann Rhimes, Kim Marquard, Theresa Valerio Bailey, Lisa West, Larry Linkous, Bob Nickerson, Susan Mc Quinn...
And i have tuned Al Capones upright piano in his residence in Titusville Florida :) Gave the world strongest girl, Pippi Longstockings (Inger Nilsson) hich hiking a ride in my car, offended Lena PH Philipsson by a scandinavian language glitch in Skara and have sent a tune to president Vladimir Putin at Kreml (Sputnik 1). 1994 Eurovision song contest in Tampere and Midnight Sun Contest. Song: Lyft mig upp (Lift me up) by Marina Sigfrids. Lyrics and music: Clas Holm. Conductor: Olli Ahvenlahti (8 milion TV viewers via satellite)...Later in The Midnight Sun Song Contest in Lapland to 380 milion TV veiwers.
CHARITY:
Hoppets Stjärnor CD (Star of Hope), Medkärlek CD (Red Cross), Med Kärlek till Kolahalvön C-Kassette (Sion Church, Vasa), Concert by Loa Falkman in Vasa Trefaldighetskyrka (Odd Fellows, Vasa), Gift Challenge, Botnia TV. (Star of Hope) Collection and distribution of necessities for orphans after Estonia Ship Accident and old people in need in St Petersburg, Russia (Sion Church, Vasa)
EDUCATION
: Electronics, Engineering, Music, Mixing, Mastering and Acoustics. Workshops with Lars Danielsson, Per Lindvall, David Paich, Natan East etc...........
RADIO: Radio Vaasa
(FIN),
YLE Vega
(FIN),
Pop & Rock
(SWE),
Radio Umeå
(SWE),
WIOP, Florida
(USA),
Radio Europa
(SPAIN)
TV:
YLE
(FIN),
Malax TV
(FIN),
Sundom TV
(FIN),
Botnia TV
(FIN),
Vediamo
(FIN)
MAGAZINES: Vasabladet
(FIN),
Vaasa Tidning
(FIN),
Finlandia Weekly
(USA),
Bya Nytt
(FIN),
Doris
(FIN),
Österbottniska Posten
(FIN),
Sveriges Nyheter
(SPAIN),
Natt o Dag
(SPAIN),
Västerbottens Kuriren
(SWE)
WEB DESIGN:
About 50 clients in USA, Finland, Sweden and Spain. LP/CD cover design ( about 50 )
TEACHING:
Video Editing, Graphic Design, Audio & MIDI editing, Music Students (private Classes) .......
ACHIEVEMENT:
Private Pilot License (PPL) in Florida 1997. I had the ocupation of head keyboard player at
New Life Space Coast Church
in Titusville, Florida 1996-1997 under Pastor,
Reverend
Larry Linkous
and Music Director
Professor Susan Mc Quinn
and
Steve X
, former drummer with
Jimi Hendrix
.
CARS:
Mercedes Benz (2)